Departure effect
The effect induced when a piece vacates its departure square (e.g., line opening, unblock).
The effect can be evaluated considering these things:
the piece leaves its square of departure free and opens all lines that go through it;
the piece still guards its square of departure (unless it is a Pawn), but none of its neighboring squares or any other square;
the piece does not have any other effect on the position until it is justified to select its arrival square.
Helpmate Analyzer only considers the positive effects of moves.
See also: Arrival effect.
Feather, Christopher John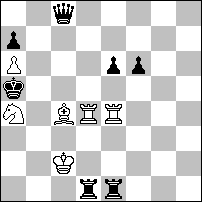 1.Qh8 Bd3 2.e5 Rd5#
1.Qg8 Be2 2.f5 Re5#